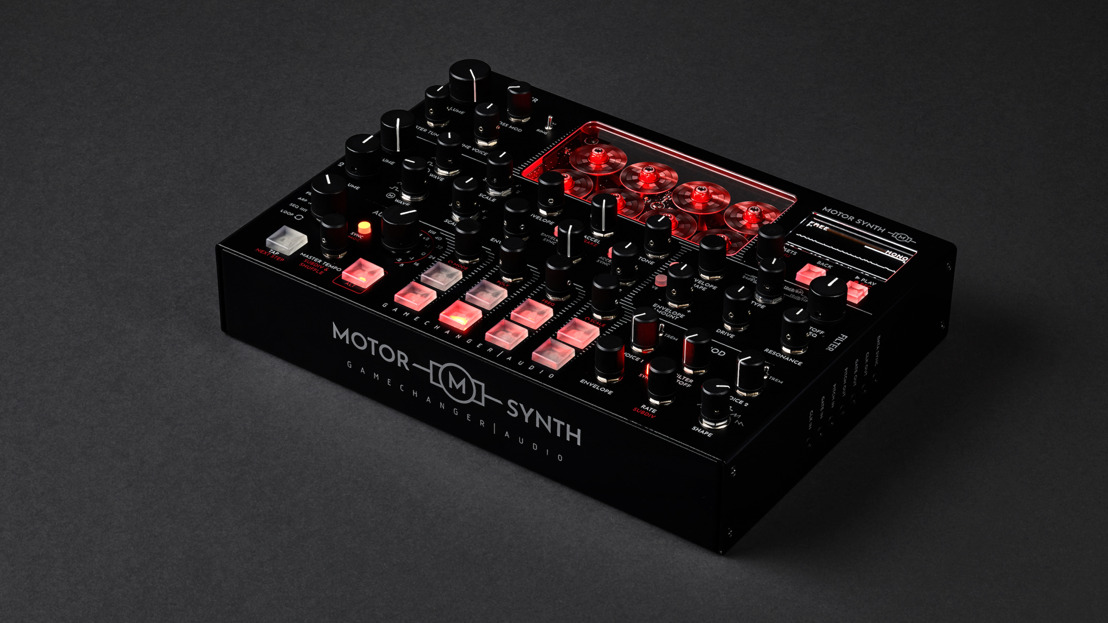 Gamechanger Audio Motor Synth Crowdfunding Campaign Is Fully Funded in Just Ten Minutes
Revolutionary synthesizer utilizes digitally controlled electromotors as its principal sound source
Riga, Latvia, 29 May, 2019 — Gamechanger Audio announces that its crowdfunding campaign on Indiegogo for its revolutionary Motor Synth has been fully funded following its launch yesterday at 12:00 p.m. Eastern time. The campaign, which offers early bird pricing of the Motor Synth at just $849 USD for 30 days, reached its fixed goal of $50,000 in just ten minutes and $100,000 in two hours. Motor Synth, which has already been endorsed by Jean-Michel Jarre, Richard Devine, Girts Ozolins and other music industry artists and luminaries, is the world's first electro mechanical desktop synthesizer and made its debut at Superbooth 2019 in Berlin earlier this month.
Motor Synth — which features a stunning, tactile control surface and an aesthetically beautiful housing — produces sounds by accelerating and decelerating eight electromotors to precise RPM (revolutions per minute) that correspond with specific musical notes. The instrument's eight-electromotor configuration makes it a four-note true polyphonic synth, with two voices per key played and four selectable waveshape types for each voice. The instrument also leverages recent developments in drone technology and repurposes some of these elements for musical purposes.
Revolutionary at its core
Motor Synth produces sound using two key principals: First, magnetic pickups are placed on each of its eight electromotors, each spinning rapidly to create industrial, otherworldly sounds that have never been heard before. Second, meticulously designed reflective optical disks have been attached to the shafts of each electromotor, each containing a graphical representation of three standard audio wave-shapes. As each electromotor spins, the disks are set into circular motion and each wave shape is read by a dedicated set of infrared sensors. This is then converted into an audio signal and a series of precise musical notes that correspond to the speed of the electromotors.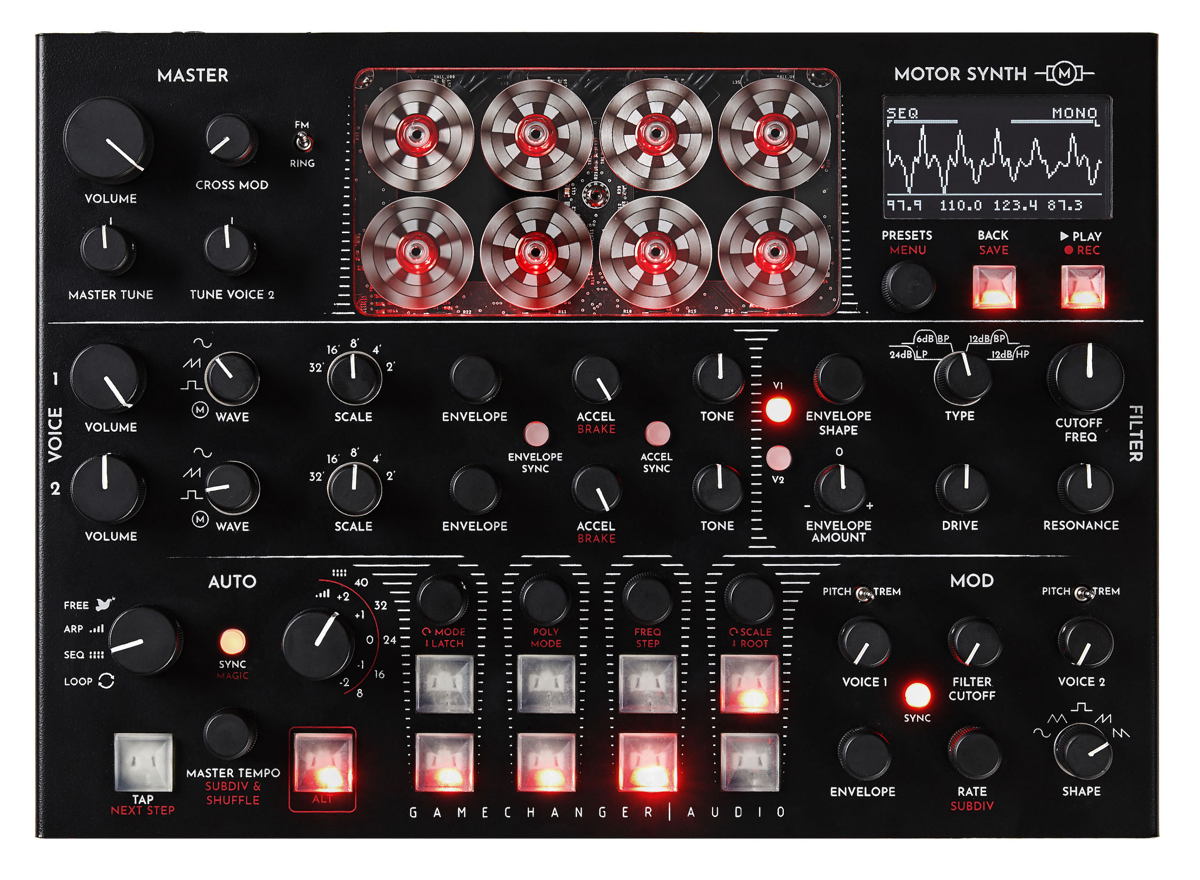 "Nowadays we can find so many synthesizers on the market more or less based on the same system," said Jean-Michel Jarre. "I've been really blown away by MOTOR Synth by Gamechanger Audio. It's an analogue, electro-mechanical synthesizer. The little discs all turn. It's very cool — very nice and very different from a visual point of view. And, of course, the sound is quite extraordinary."
Motor Synth featuresMotor Synth features familiar analogue envelopes and filters alongside arpeggiation, cross modulation, LFO, sequencing, and multiple polyphonic mode facilities, as well as an innovative looping system that allows for layering rhythm and melodies — similar to a loop station. The unit can be played out of the box via eight built-in control keys and four floating tuning/frequency knobs. Performers and composers can also connect to a MIDI controller, such as a keyboard or DAW.

Motor Synth is also capable of tracking a monophonic audio signal, such as guitar or bass, via its 1/4-inch mono input. The device can be configured to act as a harmonizer for electric guitars or other melodic instruments, since it can recognize the pitch of a musical tone and instantly generate a complimentary tone by operating an electromotor at a matching frequency. Users can also create intervals and chords based on the frequency of an incoming signal with no need for a MIDI controller or inputting pre-programmed musical information.
Just as its sound, the visual experience of Motor Synth is extraordinary. Motor Synth's glass cover enables users to receive instantaneous visual feedback from the instrument itself by providing full view of the spinning electromotors. Enhancing the visual experience even further, the reflective optical disks attached to each electromotors shaft is coupled to a set of eight mini strobe lights — providing the performer with even more visual inspiration.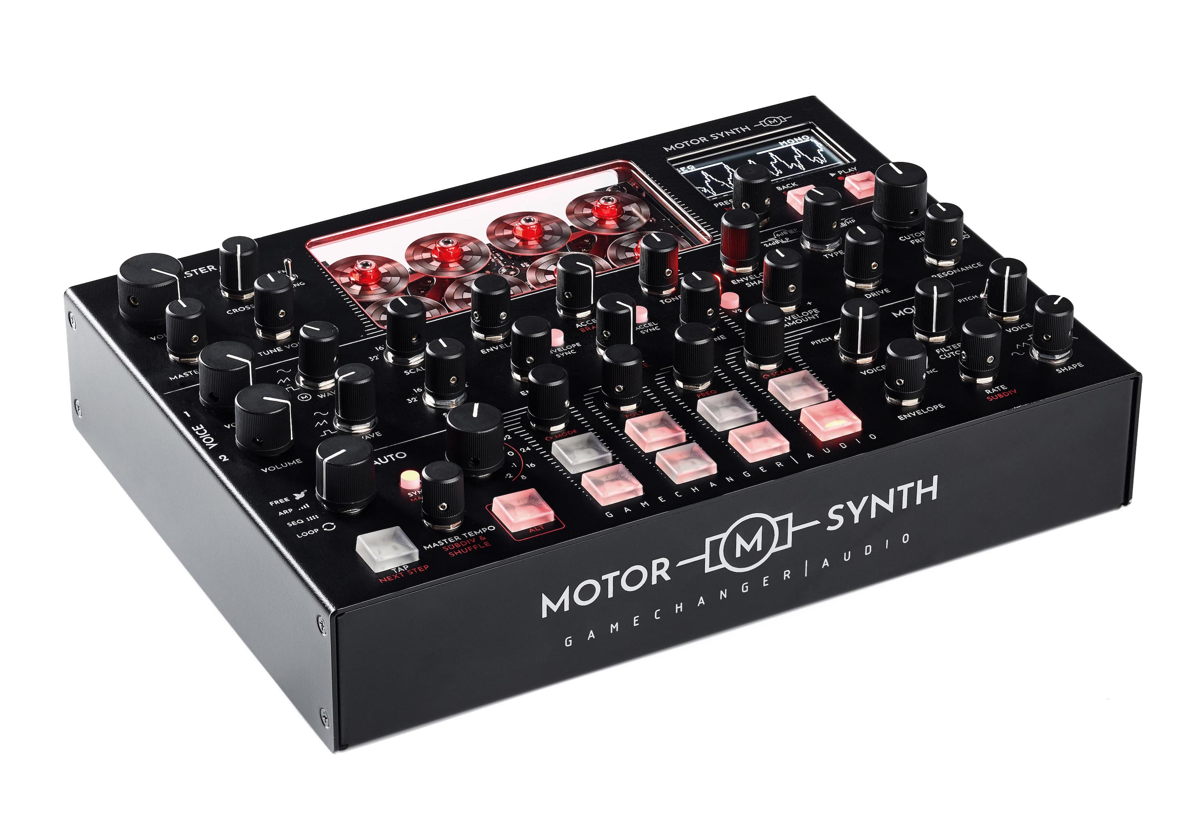 Motor Synth creates an entirely new experience and palette of sounds for musicians working in a range of musical genres. As the world's first electro mechanical desktop synthesizer, Motor Synth will appeal to fans of both analogue and electric instruments, while serving as the latest revolution in sound synthesis. Perhaps most importantly, Motor Synth provides unprecedented new opportunities for sonic exploration and music composition for a new generation of music creators.
Motor Synth is scheduled to ship in December of 2019 and will be priced at approximately $1,299 USD.

Links:
About Gamechanger Audio
Gamechanger Audio was founded by four friends committed to exploring the uncharted territories music electronics, to create devices that provide real value while stretching the imagination of both musicians and engineers.
The company has been praised for innovation in creating its inaugural PLUS Pedal, the world's first sustain and sostenuto pedal for all melodic instruments, based around a proprietary audio algorithm that lets users capture and sample small parts of the connected instrument's signal in real time and loop them into a seamless, warm, and responsive sustained tone; and its PLASMA Pedal follow-up, forming the basis of a unique approach within the realm of overdrive and distortion by transforming the connected instrument's live signal into a series of continuous high-voltage discharges within a xenon-filled tube. The latter has since been applied to a 19" Rack format and Eurorack modular format.
The company intends to continue this path with it's next product, Motor Synth, the world's first electro-mechanical desktop synthesizer.

Jeff Touzeau Public Relations, Hummingbird Media, Inc.

Steve Bailey Public Relations, Hummingbird Media, Inc.